CSR INITIATIVES
Each day, through innovative partnerships, concrete initiatives and our sharing of best practices — both inside our malls and throughout their local ecosystems — we strive to live up to our commitments to sustainability and innovation. With one simple promise: to take action in the community.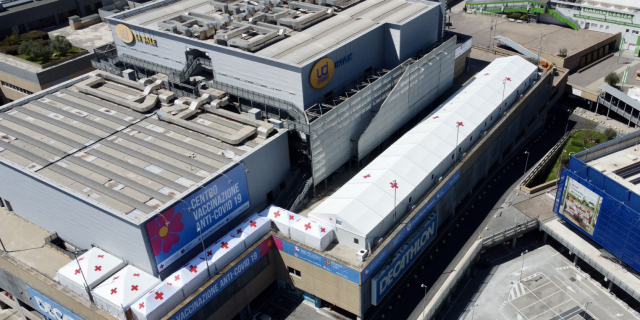 1,000 sq-m dedicated to vaccination
85,000 people vaccinated already at Porta di Roma. For the past three months, a vaccination center has been operating in the parking lot of the shopping center in partnership with the Red Cross. The 1,000 sq-m structure welcomes 3,500 people a day.
Built in three weeks only, since opening in early May 2021 the vaccination center has become a model for the surrounding territories. Equipped with a decontamination passage to control the temperature of patients at the entrance, it includes 28 vaccination boxes and a large waiting room for the 15 minutes following the vaccination. 80 people make this possible, including doctors, nurses and Red Cross volunteers.
The success of this operation is based on a long-standing partnership between the mall and the Red Cross, which has greatly facilitated all the steps required to provide visitors to the mall and the local community with an optimal vaccination center.